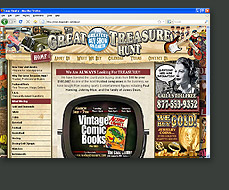 Client: We Buy Treasure, Inc.
Project: Web Design & Development, Content Management
Description: The We Buy Treasure Team has been in the Sports Memorabilia & collectibles business for over 20 years. As one of the most trusted teams in the business, they have bought from leading sports & entertainment figures including Paul Horning, Johnny Mize, and the family of James Dean, just to name a few.
They needed a website and fast. This new site would include a content managed gallery containing over 1700 images. Within 3 weeks I had created a new website that we are all proud of. I look forward to helping Rick Sr, Rick and Nick on future projects.